Student Relations Executive and Sales Coordinator
SGD

2,600

/month
Bonus of

IDR

100 - 1,000

/month
Full-Time
3 - 5 years of experience
Job description for Student Relations Executive and Sales Coordinator at Jewellery Design and Management International School
Founded in 2007 by renowned jewellery designer and gemmologist, Tanja Sadow, JDMIS is a dynamic enterprise that prides itself on providing inspirational, state-of-the-art of facilities and exceptional jewellery education. In 2018, we moved into a spacious 5300 square foot newly renovated space inside the MDIS campus with seven dedicated classrooms, a large student lounge a specialized retail studio for our students to practice their arts.
The School's mission is to enable the success of the next generations of jewellery artists and entrepreneurs. We strive to cultivate a sense of community in a nurturing, yet highly professional environment for our staff and students.
What makes working at JDMIS worth it:
International and multi-cultural: you will interact daily with colleagues, instructors and students from various countries and ethnicities

Dynamic and fun: our agile team makes decision quickly with no politics or red tape, while maintaining a high standard of work and SOPs

Professional empowerment: As with most specialized small businesses, each member's responsibilities can be broad, but we also welcome innovative ideas and suggestions and let you expand your experience through various projects.

Work-life balance: we avoid any over time to ensure our staff will be able to enjoy personal and family time

Generous staff discount for all jewellery courses that the school provides! You are more than welcome to take up courses on your off days.
Are you passionate about being a successful salesperson who forms meaningful relationship with your clients? Are you looking for a fulfilling experience in jewellery and/or education?
As one of the first people students meet as they enter the Jewellery Industry, your role in guiding them towards the skills they need to achieve their goals is crucial. Most students who come to JDMIS find us by themselves, and many do not know how to navigate the industry or how they can make jewellery a rewarding part of the lives. It is your salesmanship and enthusiasm that can turn interested visitors into eager students who may then become passionate and successful jewellery artisans and professionals.
The successful candidate will:
Be familiar with course details, schedules and selling points so that you can communicate to potential students effectively.

Work as part of a team to up-sell/cross-sell courses to achieve our monthly sales target.

Be alert and ready to have quick but constructive responses to questions asked during conversations. You want to be able to notice what students say so that you can advise them accordingly, and also take the opportunity to generate interest in them about suitable courses.

Build a relationship with clients so that you can understand their goals and point them in the right direction.

Bring your own experiences and ideas and share them with the team as we constantly work towards improvements.

Be able to remain calm should difficult situations arise with customers. Diligently navigate and update JDMIS' database of students, potential students, courses, and products

.

Follow established procedures while keeping an eye out for potential improvements.

Enjoy helping people in a creative environment and take pride in your work.
The school is open every day except Friday
,
from 10am – 7pm (Sundays we open slightly later at 11am instead
)
. Members of the sales team are expected to come in 30 minutes before the opening time to ensure that we are ready to welcome students.
We have a 44-hour work week and all staff are committed to working on at least one day of the weekend
You should be able to hold a conversation with your clients with excellent English. It is important that you can communicate constructively and clearly to individuals and groups alike

GREAT personality – someone who loves meeting people and cares about providing good service!

You should be comfortable with working on a computer.

Ideally, we are looking for an experienced salesperson with 5 years of relevant working experience. However, what is most important is enthusiasm towards your work and the willingness to learn. If you lack specific sales experience but feel like this could be a good fit, you should still apply!

Applicants must be Singpaporean or PR and be willing to work in Queenstown, Singapore 148951.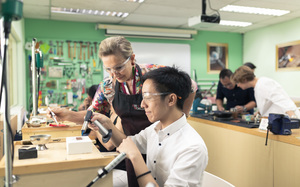 JDMIS *is* Jewellery Education
Founded in 2007, JDMIS is Singapore's only specialised jewellery school providing end-to-end jewellery education. The school's founder and dean, Mrs Tanja Manuela Sadow is an award-winning designer and renowned jewellery educator with more than 30 years of experience across the United States, United Kingdom, and Singapore. Since its establishment, JDMIS has trained over 5,000 individuals across 56 countries, as well as top local and international brands.
JDMIS is a joint venture with the
Management Development Institute of Singapore and works closely with MDIS team members to achieve its goals. MDIS is Singapore's oldest not-for-profit professional institute for lifelong learning.
Its in our blood! With generations of jewellery experience and a passion for creativity and sharing, everyone at JDMIS is here because of our passion for this sparkling industry! We do this because we enjoy innovating, creating and seeing how our graduates expand on what we teach to create truly unique designs, careers and businesses. Our participants come to us because: • JDMIS is THE best place to learn about jewellery! • JDMIS is trusted by the industry for training. • Participants at JDMIS are amazing and come from all walks of life • JDMIS courses are fun and enriching • Great networking
JDMIS is a dynamic small enterprise. It is a registered Private Education Institution with the Singapore Committee for Private Education, WSG ATO but more importantly, a place without politics or pretense. We operate 7 specialised classrooms and workshops out of the expansive MDIS campus in Queenstown and make sure our participants can hang-out here 7 days a week!
Company gallery
Report This Job