Job description for Digital Marketing Intern at A Good Space
Calling all aspiring changemakers, come join Singapore's first co-operative of active citizen changemakers creating meaningful solutions for social issues in Singapore!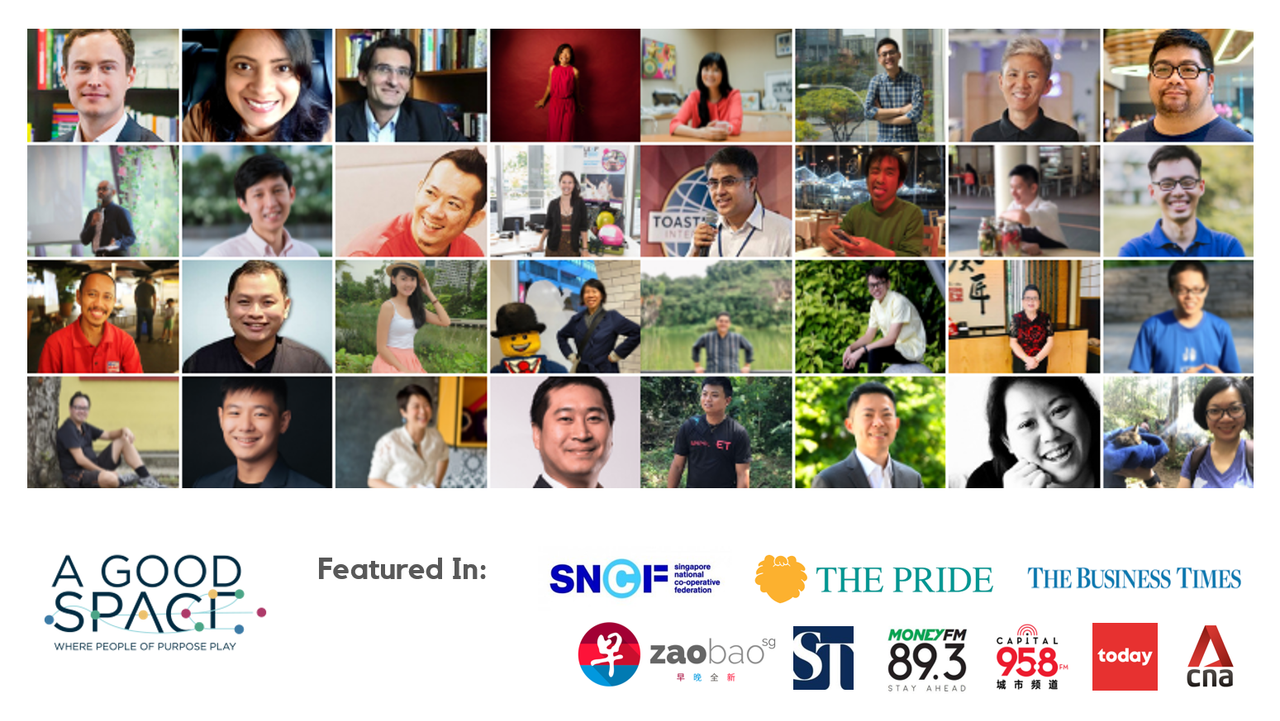 Never doubt that a small group of thoughtful, committed citizens can change the world; indeed, it's the only thing that ever has - Margaret Mead
A Good Space (AGS) is a group of people who want to do more for the social issues and communities we care about. From climate change to migrant workers, mental health to low-income communities, we represent 19 different issues and come from all walks of life, united in our dream for a more caring and inclusive Singapore.
We call these people 'changemakers'.
In March 2020, we were registered as Singapore's first co-operative to unite diverse changemakers as a collective changemaking force to design meaningful solutions for good.
We hope to do 3 things for Singapore:
Changemaking is difficult and lonely, so we create a nourishing environment for changemakers to help each other

Create opportunities for diverse changemakers to collaborate and tackle complex social issues (e.g. income insecurity for gig workers, living conditions for migrant workers, etc)

Businesses and schools can be a force for good, so we Inspire employees and students to care about social issues and use their resources to create social change
To learn more, please visit our website
here
.

As we embark on this journey to write a new chapter for changemaking in Singapore, we need some help!
We are looking for a Digital Marketing Intern to work alongside us. The selected intern will have the following responsibilities:
Craft social media posts, write articles and design graphics to raise awareness of different social issues in Singapore that are advocated by A Good Space' changemaker members

Provide support in developing, planning, and implementing marketing campaigns for programs organised by A Good Space

Brainstorm new ideas to create content (videos, social experiments, articles, etc) that increase awareness of A Good Space and its social media channels

Conduct research and identify potential partnerships for A Good Space, including media outlets, companies, civil society groups and funding avenues

Provide support in matters relating to marketing, partnerships or administration for A Good Space when needed

We are committed to your learning and growth. Should you be selected, here are some unique experiences that you can look forward to:
Gain a deeper appreciation of diverse social issues (e.g. differently-abled, climate change, migrant workers, mental health, etc) in Singapore by befriending passionate changemakers

Be able to propose content marketing ideas, administer content calendars, perform customer research and produce innovative content aligned with defined content guidelines for A Good Space

Learn how to design and implement a content marketing plan that leads to increased website traffic and signups for the A Good Space email newsletter

Be mentored on digital marketing, community building and social entrepreneurship by some of the most passionate changemakers in Singapore

Learn the nuts and bolts of starting a social project and movement, which you can apply to your own ideas

While you will be trusted with important responsibilities (no coffee making or erasing the whiteboard!), it's fine if you don't have the skills yet. All we are looking for is 3 specific qualities:
You are committed to A Good Space like it is your own initiative; continually asking questions on how we can improve and do better. Even if it means additional reading or meeting new people to find answers to those questions, you'll do it.
You are honest, trustworthy and commit to doing what you say. To help you grow, we'll entrust you with important responsibilities that will stretch you past your comfort zone and we need to know that we can count on you.
We are looking for people who share our drive to create meaningful social impact. If you are looking for a normal internship to fulfil a school requirement, then this is probably not for you.
Additional Requirements Include:
Be a Singaporean citizen or Permanent Resident aged 17 to 35 years old

Be a Student/ Undergraduate from ITE, Polytechnics, Autonomous Universities, or other educational institutions (e.g. private education institutions and overseas institutions); A Level students waiting for University can apply too!

Be available for a full-time internship which is minimally five months, up to six months between Aug/Sep 2022 to Mar 2023; and

Any previous entrepreneurial experience (including failures) or involvement with any ground-up or volunteer initiatives will be seen as a massive advantage

All candidates must be prepared to go through at least one face-to-face interview.
This internship is supported by the Youth Corps Community Internship (YCCI). Selected interns will receive the opportunity to attend other enriching programs by Youth Corps Singapore. You may read about the YCCI at
Youth Corps Singapore's website.
This is an opportunity like no other. If you feel like you are up to the challenge, click on the apply button and let's have a chat!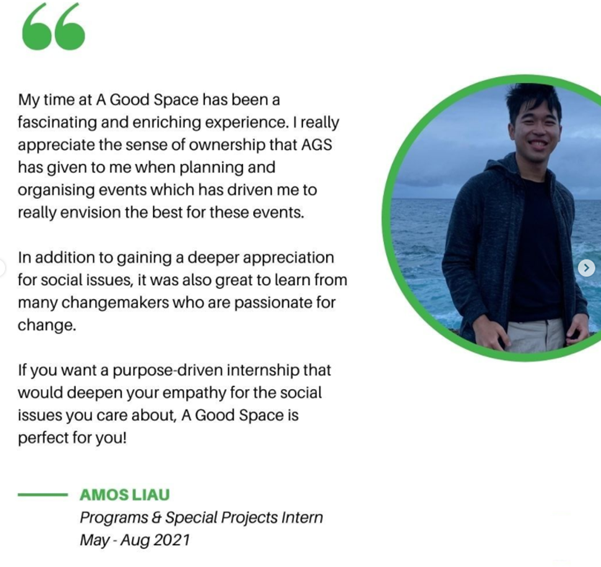 A Good Space started in 2017 as an informal social movement, with a belief that active citizen changemakers can create positive social change for Singapore.
In 2020, we were registered as Singapore's first non profit co-operative to gather diverse changemakers, activists, social entrepreneurs, charities, community-based groups as a collective changemaking force - to collaborate, innovate and create a Singapore we can all believe in.
To learn more, visit our website at: www.agoodspace.org
Company gallery
Report This Job