Have you made any plans to read any motivational books for the New Year? No better place to get started than grabbing Grant Cardone's "The 10X Rule" off Amazon today! Grant Cardone markets himself as a self-made man – broke at 25, millionaire by 30, before building a successful $350 million real estate empire in Miami.
The 10X Rule is essentially this: understand how much effort and thought is essentially needed to be successful at anything. Whether it's in your personal lives, your business or even at your job. The rules can be applied to every single aspect of your life. (Which is why we think he's super cool!)
Here's the top three 10X tips for creating success in 2018!
Success ain't no one-hit wonder
Success isn't a one-hit wonder. Grant emphasises that great people do the things that other folks do not like doing in order to succeed. This involves a lot of continual efforts put into their projects. Once their goal is reached, successful people create another one in its place, promoting what he calls the "cycle of success".
To get started, make a review of where you're at now and make plans to get better next year.
What we mean when we say this is –  take a pen and paper, make a list of your accomplishments, set your goals, and find tangible and actionable steps get there.
Goal Setting: Don't be "realistic", be passionate
Instead of sprouting cliches like "the sky's the limit" when setting goals, Grant gets pretty specific about what he means. He says "When people start limiting the amount of success they desire, they will limit what will be required of them in order to achieve success – and will fail miserably".
Tough words from a tough man, we think, and very true in all aspects. Instead, set targets that are 10X your original plan, and follow through with increased and continued actions.
Literally, go big or go home!
Dominate. Don't just participate.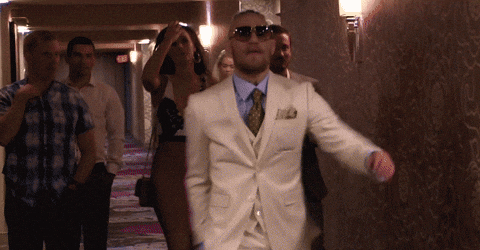 So this is probably closer to Conor McGregor's mantra, but it's still completely relevant. Grant believes that the notion of victimhood is so rampant in society, when one does just his bare minimum to get by, and then complain about his situation.
Don't be that person.
Great things happen because of you. Adopt the attitude that everything that happens to you in life (and we mean everything, whether the good, the bad, or the completely boring) is because of something you did or did not do.

With that mindset, assume the responsibility over your own situation and do things not just to get by, but with the full intention to work harder and be better than everyone else and really kill it at work.
Success is our right, and we need to take positive and definitive actions to win it. Putting 10X the passion and efforts behind your goals is as important as taking steps that are measurable and tangible. With a clear mind and consistent actions, success will be yours. So go forth and change your mindset for 2018 today!